Map Unavailable
Date/Time
Date(s) - Oct/03/2018
4:30 pm - 8:00 pm
Location
Richmond Congregational Church, UCC
Our 72nd Annual Chicken Pie Supper will be held on October 2, 2019.
Tickets will go on sale starting September 1, 2019.
Our Chicken Pie Supper is about more than pie; every year, more than 600 people gather with us for fantastic food and fellowship. Some folks even make their travel plans around attending this annual feast!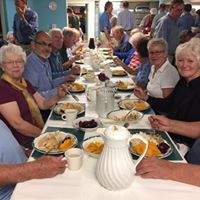 MENU (Served Family Style):
Chicken/Gravy and Biscuit Pie
Mashed Potatoes
Squash
Cole Slaw
Cottage Cheese
Pickles
Cranberry Sauce
Dessert: Pumpkin Pie or Apple Pie with Cheddar Cheese
Adult Seating*- $ 12**
Children Seating (under 12) – $ 6**
Preschooler seating – free
All Takeouts – $12**
*Large groups wishing to be seated together will want to arrive early.
** Prices subject to change
RESERVATION CHANGES OR CANCELLATION INFORMATION:
Reservations will be taken from September 1 – October 1, 2019. If you wish to make your reservation, please click the "Reservations" button to do so online, or call Jen at (802) 434-2053. If you have questions, or would like to change or cancel your reservation, you may do so online or in person: call Jen at (802)-434-2053 or email church@rccucc.org.
In order to ensure a successful event for the church, reservation cancellations must be received by October 1st @ 6pm or an invoice will be mailed and full payment is expected.
Thank you for supporting Richmond Congregational Church United Church of Christ!
---
Our 70th Annual Chicken Pie Supper was held on October 4th, 2017.
---
2016 Chicken Pie Results
Thank you to everyone who made our 69th annual Chicken Pie Supper a wonderful, successful event!
The 69th Chicken Pie Supper was a huge success by any measure. Approximately 600 folks were served with nearly 30% opting for take-outs; a decade ago the take-outs represented less than 10%. We grossed nearly $7300 and netted over $4800. Comparing to last year, we netted $365 less. More children sales, higher chicken prices, and a conscious decision to move toward compostable paper products were the key drivers to lower profits. To be successful year after year requires an "all hands on deck" response from the members and greater community. It is so rewarding to see it all come together on the first Wednesday in October. At this time of year we are being asked what we are thankful for. The CPS committee is thankful for all the chicken and dessert pie makers, the dining room servers, the kitchen cooks and support staff, and the dish room teams. All serve vital roles and all serve them well.  ~ Dave Thomas, November 2016
Please enjoy this slideshow of the evening's highlights.