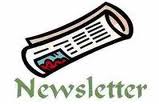 In an effort to communicate with our members and friends, Richmond Congregational Church publishes weekly bulletins in church on Sunday, a weekly news update email, and a bi-monthly newsletter.
Our Sunday Bulletins include the order of worship, including responsive readings, prayers and hymns that we will be singing throughout the service.  There is usually an announcement page that includes upcoming events, birthdays and anniversaries, a church collection summary, a listing of worship leaders for the week and more.
Our weekly email "This Week At Richmond Congregational Church" is distributed through email and available online on our Facebook page and website.  This includes information pertinent to the upcoming worship service and the week ahead.  Pastor Katelyn begins the email with a message, and the body is filled with interesting "ads" and articles about events in the church and wider community. This page is interactive and offers brief glimpses of news and announcements.
Our bi-monthly newsletter, "The Messenger" is also available by email and online, but can be mailed via USPS upon request.  In this newsletter, you'll find an array of interesting articles plus additional information about upcoming events both in the community and our church.  This newsletter offers a more in-depth look at our church life.
For the latest issues and archives of our newsletters and special announcements, please click here.
To receive our newsletter(s) via email, either contact the church office at church@rccucc.org or simply open a newsletter from the archive and click "Subscribe".  Past issues are also available upon request.
To receive our newsletter via U.S. Mail, please contact us at church@rccucc.org with your name, mailing address.