Upcoming Events:
Thurs, Dec 21 – Advent Quiet & Winter Solstice Service 7 pm
Sun, Dec 24 – Christmas Eve Services: 10 am Carol Sing, 5 pm Family Service, 8 pm Candlelight Service
Sun, Dec 31 – New Year's Eve Service with guest preacher, Caitlin Purinton
Sun, Jan 7 – Celebration of Epiphany with Holy Communion
Sun, Feb 4 – Annual Meeting
Wed, Feb 14 – Ash Wednesday
Sat, Feb 24 – Tues, Mar 6 – Mission Trip to Nosara, Costa Rica
Sun, Mar 25 – Palm/Passion Sunday
Thurs, Mar 29 – Maundy Thursday
Fri, Mar 30 – Good Friday
Sun, Apr 1 – Easter
Spiritual Support and Fellowship
Prayer support through an organized prayer chain
Short-term pastoral counseling and spiritual direction
Fellowship events are held throughout the year
Church Luncheons & Suppers throught the year and the Chicken Pie Supper in October
Holiday Market in December
Rummage Sales – Typically held in the spring and fall
Prayer Shawl Ministry/Knitting Group –  Contact  JoEllen Swaine (jeswaine@comcast.net) for more information or if you know of someone in need of a prayer shawl. When a shawl is completed, the group blesses it before it is sent on its way. We currently have several shawls completed and ready to be given away.
Education
Click HERE to see our youth and adult education opportunities.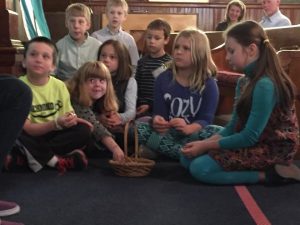 Music
Click HERE to see our music offerings.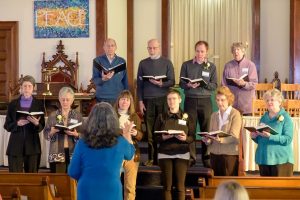 Missions
Click HERE to see our mission projects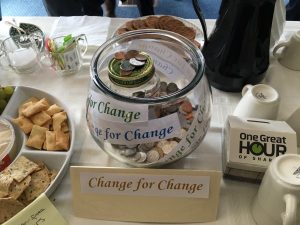 Other Activities
Peace Vigil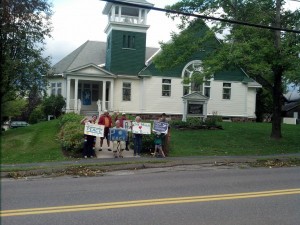 Join us every Thursday evening from 5:30-6:00pm. We have been holding a vigil for peace on the front porch or the front lawn of the church since the beginning of Lent in 2005. It is a very informal meeting. People bring a candle to light and often something in the way of readings and prayers. If you are concerned about the current state of the world and would like a place to gain some peace of mind, maybe you would like to join us. All are welcome!
Committees/Governance
Church Council
Operations

Trustees
Stewardship
Memorial/Endowment

Worship

Deacons
Music Committee
Hospitality/Bereavement

Outreach Ministries (Missions)
Education

Sunday School
Confirmation
Youth Group/Mission Trip

Communications
The church also provides space for:
Friday Food Affair at Five is held every Friday evening from 5:00-7:00 pm in the Fellowship Hall on the lower level of the building (enter on Church Street) and is handicap accessible. This is a community event open to anyone who would like to come. We gather for a meal and conversation. Meals are prepared by a group of volunteers and food is donated. Meals are free and donations are accepted, but not expected. If you would like to become involved in this project, visit the website at www.fridayfoodaffair.org.
Alcoholics Anonymous (AA)  – Meets 7:00 pm Sundays in the Fellowship Hall
Valley Stage Concerts  –  All "PM Sundays" shows take place at the Richmond Congregational Church, 20 Church St., Richmond. 4:00 – 6:00 pm. Tickets are $17.50 in advance, $20 day of show. For more information contact Valley Stage at (802) 434-4563.
Mansfield Cooperative School rents space on the bottom floor of the church. Informally known as "The Coop", we are a recognized independent school in Richmond, Vermont serving students in grades 3-8. We believe that children have a natural love of learning that emerges when they feel comfortable, free, and respected. Through our project-based learning and commitment to community service, our students are able to develop the essential skills needed to become life-long learners.