Nursery Care
We offer nursery care for the young and the restless during our church services from September – May.  Visitors can check with the greeters when they arrive at church for directions to the nursery room.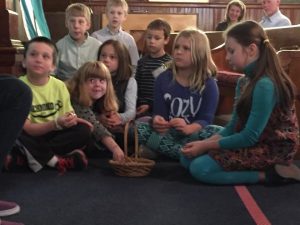 Sunday School
Sunday school for children in pre-school through 5th grade is held every Sunday, September – May. Children begin in worship and leave for Sunday school classes after the Children's sermon.
Blue Room Group is offered for 6-8th grade students and meets at least twice a month during Sunday School.
During the summer months, special activities are planned for the children and there is no nursery care. Our "Meet Me At The River" summer program is for children ages 5+. After the children's message, we go the the park at Volunteer's Green (weather permitting), to have a Bible story/activity and play time, then return to church to meet our families.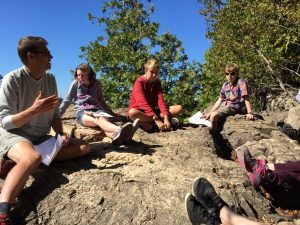 Confirmation
Traditionally, a Confirmation classes for young people in grades 7, 8, or above is held ever other year.  Our most recent class was confirmed on May 22, 2016.
At the Confirmation ceremony, Confirmands are given the option to join our church.
Adult Activities
Adult Education and Bible Study series are offered throughout the year. Announcements are made about specific series and retreats in the Sunday bulletins, weekly emails and bi-monthly newsletter.