Our History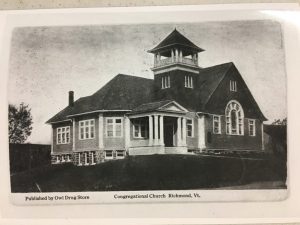 The First Congregational Church of Richmond was organized September 24, 1801 by two missionaries from Connecticut. There was no church building until 1813 when twenty-nine Congregationalists, five Baptist, five Christians, one or two Methodists, and twenty-one Universalists became proprietors of the Richmond Meeting House, now known as the Old Round Church.
In 1849, the Congregationalists decided to build a church of their own, located at the present site of the Congregational church.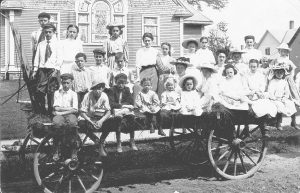 At a May 1903 church meeting, members decided that it was better to build a new church than repair the old one. They decided to raise some of the needed money by selling some of the land. A new street was developed, now called Church Street.
We completed the present building in 1904, added a porch by 1918, built a new addition in the early 1980s and dedicated it in 1984. This building includes offices and Sunday School rooms. On September 24, 2001, Richmond Congregational Church celebrated 200 years of ministry in Richmond and also the renovations to the foundation, kitchen, and dining area.
Worship Services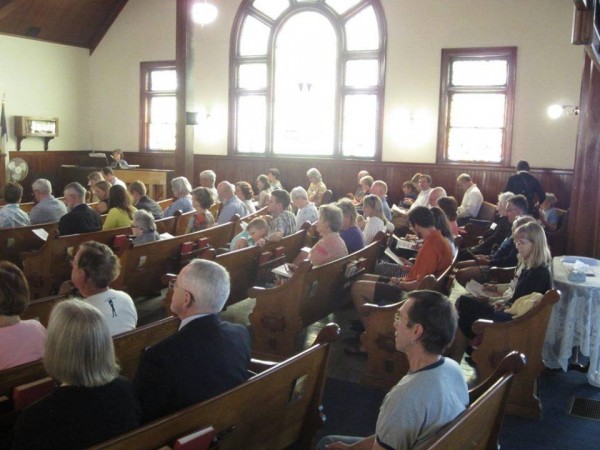 Our Sunday worship service begins at 10:00am. (9:00 am in July & August)
We regularly serve Communion on the 1st Sunday of each month. We invite everyone to share in the sacraments of gluten free bread and grape juice.
Our sanctuary is handicap accessible. Enter the church through the Church Street ground level entrance. Use the handicap elevator to reach the sanctuary.
After the Children's Sermon, children grades PreK – 8 may choose to attend Sunday school or the "Meet Me At the River" summer program.
We offer nursery care for small children during worship during the school year.
Fellowship hour follows worship, with plentiful refreshments and good conversation.
Church Office
Office Administrator Hours: Tuesday – Thursday: 10:00am – 2:00pm
Pastor Katelyn's office hours are by appointment. You can call the church office at (802) 434-2053 or email: katelyn@rccucc.org if you would like to schedule a meeting.
Call the church office to:
Arrange space for group functions
Arrange weddings or funerals
Reach the pastor for spiritual support or assistance
Church Committees (Governance)
Leadership Team – President, Past President, President Elect, Pastor & Committee Reps.
Operations

Trustees
Stewardship
Memorial/Endowment

Worship

Deacons
Music
Hospitality/Bereavement

Outreach Ministries (Missions)
Education

Sunday School
Confirmation
Youth Group/Mission Trip

Pastoral Relations
Official Church Documents
To view a copy of our current Church By-laws and Constitution or Annual Report, please use the links below.
Church By-Laws and Constitution – 2022 edition