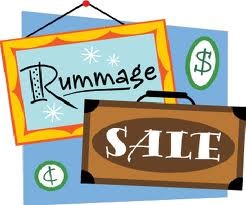 We will be holding a Rummage Sale in the Richmond Congregational Church Fellowship Hall on Friday, September 29 from 10 am – 7 pm, and Saturday, September 30 from 9 am – 1 pm. Come shop for that new-to-you flannel shirt you've been wishing for or perhaps a special new coffee mug. There will also be delicious, individually wrapped bake sale items available by donation.
We are seeking donations of gently used items including jewelry, adult clothing, (especially sweaters, coats, and winter boots – no shoes please), children's clothing, children's shoes and boots, toys, games, puzzles, children's books, Halloween costumes, craft supplies, and household items (linens, dishes, kitchenware etc.). We will not accept sports equipment, books for adults, suitcases, adult shoes, electronics of any kind, large appliances, or large furniture. Remember that we only want good quality, gently used items that another person/family would be happy to have. We must pay to have trash removed.
Please help us make this year's sale a success by gathering your donations for drop off at the church the week before the sale – on Tuesday, September 26 and Wednesday, September 27 between 3 – 7 pm or Thursday, September 28 between 9 am – noon.
The Rummage Sale supports the community by providing good quality clothing and household items for inexpensive prices and offering folks an opportunity to clean out their cupboards and closets for a good cause. Vouchers for free shopping are provided to some and Saturday's Bag Sale guarantees a bargain. Proceeds from the sale go right back into the community as financial support for organizations like Our Community Cares Camp, The Richmond Food Shelf,  the US Committee for Refugees and Immigrants, COTS and others.