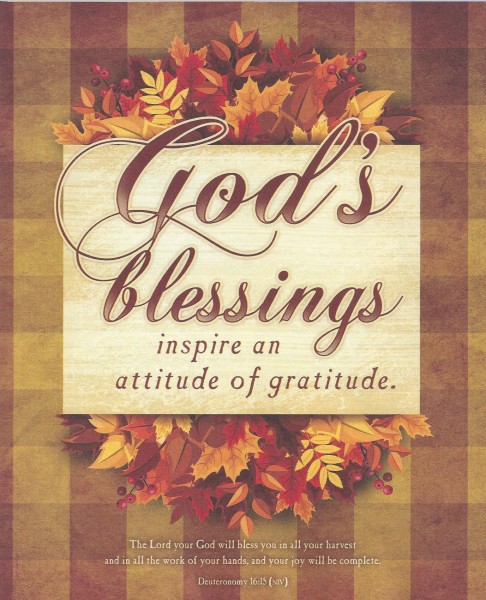 November Times Ink Article
In November we cultivate an attitude of gratitude as we say thank you to God for the many joys and blessings of this life. I've been toying with some messages for our church sign to get us all thinking as we drive or walk by, including:
            What are you thankful for?
            How many ways can you say thank you?
            What fills your cornucopia?
            Giving thanks is sweeter than pumpkin pie!
            God welcomes even the biggest turkeys.
            May all of our living be full of thanks and giving.
            Before Oprah had us making gratitude lists, Paul said, "give thanks in all circumstances." 1 Thessalonians
            Enter God's gates with thanksgiving, and God's courts with praise. Psalm 100
Of course, these all won't make it up on the church sign, but maybe they might inspire us to deepen our gratitude. What other phrases and questions would you add to this list?  What are you thankful for?
I am thankful for the chance to worship ecumenically with our Methodist and Catholic brethren in faith! On Sunday November 20 at 4 pm, we will host the annual Ecumenical Thanksgiving Service in conjunction with Our Lady of the Holy Rosary (Richmond), Williston Federated Church, and Immaculate Heart of Mary (Williston). A combined choir will sing under the direction of Esther Nui. Fr. Daniel Jordan, the new priest at Holy Rosary & IHM, will offer a Thanksgiving message. A free-will offering will be received to benefit the Richmond and Williston Food Pantries. Following the service, we will share a soup & bread dinner in the Fellowship Hall. Please join us for this Thanksgiving tradition.
In late November, we turn from the season of gratitude to a season of preparation. Advent begins on November 27.  During Advent we will be "following the star" to Christmas.  Keep your eyes peeled for stars popping up around Richmond! Peace is the theme for the first Sunday of Advent, and Rev. Debbie Ingram will be our guest preacher. Wednesdays in December (7, 14 and 21) we will have our Sanctuary open from 7:00-7:45 PM for a time of candlelight, prayer, and quiet music. All are welcome.
Finally, are you looking for an alternative way to give during the holiday season? We have three ways to help our local and global community in December. First, we will also have a Giving Tree for children in need attending Richmond Elementary, Smilie Elementary, Brewster Pierce, and Camel's Hump Middle School. If you would like to help furnish gifts for a child, please pick up a tag at church during the Holiday Market (Dec 3) or stop by the church during business hours (Tuesday-Friday 9am-1pm). All gifts must be returned to church unwrapped and with the gift tag by December 13. Second, on December 11, our children will be selling shares of animals through Heifer International, which provides animals, agricultural training, and education to people in poverty around the world. Finally, throughout December we will also be collecting new warm socks for homeless women, men, and children served by COTS in Burlington. You are welcome to donate to any of these causes – please contact the church office for more information.
Wishing you many things to be thankful for, and peace, hope, joy, and love in the month to come!
Join us every Sunday at 10 am for Worship & Sunday School, online at www.rccucc.org, or on www.facebook.com/rccucc