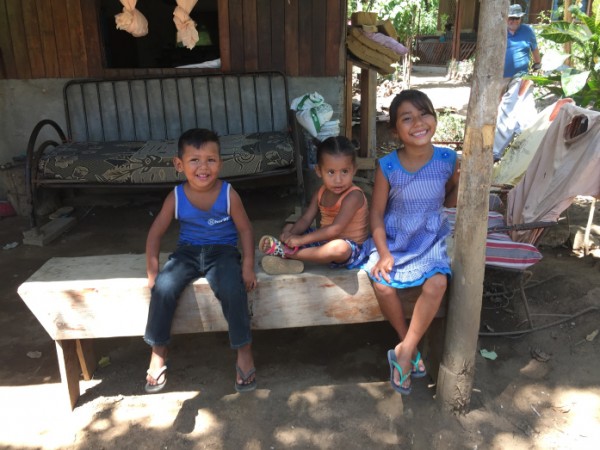 The Pink House and Green House are up!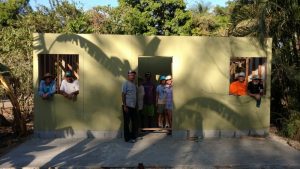 Today was another great day of hard work in the heat. Our group is really doing well and having fun too! The weather is consistent, with highs around 91 degrees each day. It makes for a hot work day, and everyone appreciates the pool time or beach time when the work day is done. We continued working on both houses today.
The windows and screens were installed in the green house. The Costa Rican crew is going over early tomorrow morning to install the roof and avoid working in the midday heat. Some group members will continue to help with landscaping, hanging doors, and helping Pastor Vicky install the bathroom plumbing.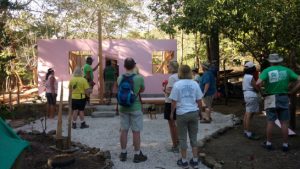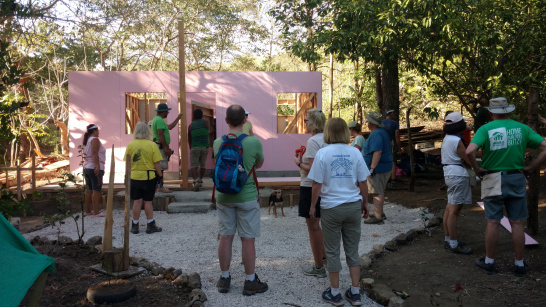 The pink house panels were all transported before lunch and put up this afternoon.  Tomorow that house will have roof trusses and windows installed. We are planning to dedicate both houses on Friday and should be able to meet our timeline. At the pink house, Jeffry & Katia's three children – Natasha, Samuel and Mia Obet – were an absolute delight! They had fun playing with Isabel (one of our group members) and drawing and playing with balloons that we brought along. After running out of wooden blocks to draw on, I realized the kids could also color on the styrofoam lunch boxes. It is amazing how such simple things can keep kids happily busy for hours! Enjoy the photos and keep checking on our progress. I won't be able to post again until tomorrow night as we only have internet at our accommodations.