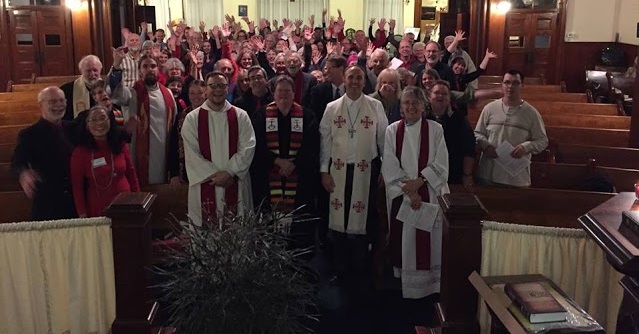 December 2015 Reflections
Happy New Year!
"Wait, Katelyn, this isn't accidentally your January newsletter column, is it?"
Friends, let me say it again, "Happy New Year!"
In the Christian calendar, Advent is the start of a new year. This can feel a little discombobulating as Christians, because we're called to use Advent as a season of waiting and preparation but we are surrounded by a culture that leaps right from Thanksgiving to Christmas. So why should we celebrate Advent?
Advent is important for several reasons. It helps us teach our kids (and reminds adults) how to be patient and think of a different way to mark the days until Christmas. In Advent, we take four weeks to anticipate the coming of the Christ child. In worship we will mark each Sunday of Advent by lighting a new candle on the Advent wreath and celebrating the themes of the Hope, Peace, Love, and Joy. Engaging in spiritual practices such as lighting Advent candles, opening Advent calendars, reading an Advent Devotional, and coming to church more regularly helps us draw closer to God during this season of preparation.
As we await Christ's coming we are also reminded again of how the Advent story is not only the story of Christ's birth, but the story of a great journey. In this story perhaps we can find truth which resonates with our own experiences. Like Mary and Joseph, sometimes we take physical journeys filled with less than ideal travel conditions. Mary traveled to Bethlehem on a donkey while pregnant! Sometimes like Elizabeth, who thought she was barren, we take emotional journeys. It may be that we have to wait a very long time for an angel to appear and tell us the good news. And sometimes, like the Magi waiting and searching the skies for a star to lead the way, we simply have to hope we will eventually receive directions to figure out where we are intended to go.
Friends, I invite you to embrace all of the richness and complexity of Advent as we start this new church year. Together may we wait, prepare, believe and proclaim that a light shines in the darkness of the bleak midwinter, and this light and love has the power to change the world!
May the God of Hope, Peace, Love and Joy infuse your hearts, your home, and our communities in this rich and full Advent season!
With Joy (and Happy New Year!),
Katelyn