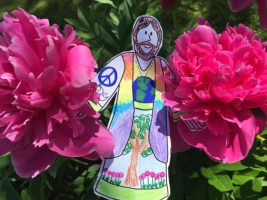 "Rejoice in the Lord always: and again I say, Rejoice." – Philippians 4:4
Dear Friends in Christ,
It's summer time in Richmond, which means it is time for rejoicing as we look forward to the 4th of July parade and RCC Strawberry Shortcake Booth, Our Community Cares Camp, Christmas in July worship on July 24, Mt. Mansfield Cooperative School moving to RCC, Blessing of the Backpacks on August 28, and so much more (maybe even a wedding)! I hope that during this summer season, you will join us as we rejoice together in worship. In July and August we worship at 9:00 AM. Earlier this year, the congregation voted to continue earlier worship times in the summer. Worship moves back to 10:00 AM in September.
As you head on your summer adventures, bring Flat Jesus with you as a reminder that God is with you wherever you go. Rejoice and be glad as you take pictures with Flat Jesus out in God's creation, and email them to the church office at church@rccucc.org. We will post pictures of Flat Jesus' adventures on the church facebook page and on a bulletin board in the Parlor. If you head to another church for worship while out on your travels, be sure to bring back their bulletin and leave it in my mailbox. I'd love to see how other churches are worshipping God!
On Saturday July 30, 2016 at 2:30 PM, Nathan Sadler and I are getting married at RCC. Rev. Douglas Nielsen, retired pastor of the UCC church in Saco, ME will officiate, and Rev. Pam Lucas, Associate Conference Minister, will preach. You are invited to join our family and friends for the ceremony and have a slice of wedding cake with us following the service.
On Sunday, July 31 at 9:00 AM, Nathan's father Rev. Dr. Neal Sadler will lead us in worship at RCC. Rev. Sadler and I will co-preside over Communion. After worship, please join us for brunch in the Fellowship Hall. Following the wedding festivities, Nathan and I are traveling to Ireland and Scotland from August 4-22. One of our destinations is the Iona Community, a center for religious pilgrimage off the coast of Scotland. We are excited to see Caitlin Purinton, former member of RCC, who is currently working as the Island Staff Coordinator for the Iona Community. You can learn more about the Iona Community at https://iona.org.uk/
In August, RCC welcomes Rev. Debbie Ingram to the pulpit on August 7, 14 and 21. Debbie is the Executive Director of Vermont Interfaith Action. While I'm away, emergency pastoral care will be provided by Rev. David O'Brien. Office Administrator Jen Greenwood and RCC President Cindy Preston will handle day-to-day concerns. I plan to return to the office on Wednesday August 24.
Friends, I pray that you have a wonderful summer full of rejoicing. Thank you for the gift of time away during August to renew, recharge, and celebrate my marriage. As we continue into our third year of ministry together, I also rejoice at the opportunity to continue to minister in partnership with you.
With Overflowing Joy,  Katelyn