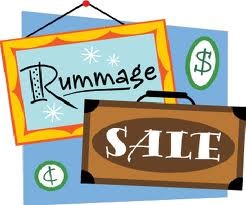 Richmond Congregational Church Fall Rummage Sale will be held on Friday, October 21 from 10am – 7pm, and on Saturday, October 22 from 9am – 1pm.
We are looking for volunteers to make individually wrapped cookies & desserts, to help collect and sort donations, to help with the sale itself, and to help haul away any leftover items at the end. Click the following link to sign up: https://www.signupgenius.com/go/60b0a48aba82ca31-fall
OR contact the church office: by phone (802)-434-2053 or email church@rccucc.org.

We are also seeking donations of gently used items including adult clothing, (especially sweaters, coats, and winter boots – no shoes please), jewelry, children's clothing (may include shoes & boots), toys, games, puzzles, children's books, Halloween costumes, craft supplies, and household items (linens, dishes, kitchenware etc.). We will not accept sports equipment, books for adults, suitcases, adult shoes, electronics of any kind, large appliances, or large furniture. Remember that we only want good quality, gently used items that another person/family would be happy to have. We must pay to have trash removed.

Drop off donations at the church on Tuesday, October 18 and Wednesday, October 19 between 3 – 7 pm or Thursday, October 20 between 9 am – noon.

The Rummage Sale supports the community by providing good quality clothing and household items for inexpensive prices and offering folks an opportunity to clean out their cupboards and closets for a good cause. Vouchers for free shopping are provided to some and Saturday's Bag Sale guarantees a bargain. Proceeds from the sale go right back into the community as financial support for organizations like Our Community Cares Camp, The Richmond Food Shelf, The Refugee Resettlement Program, COTS and others.