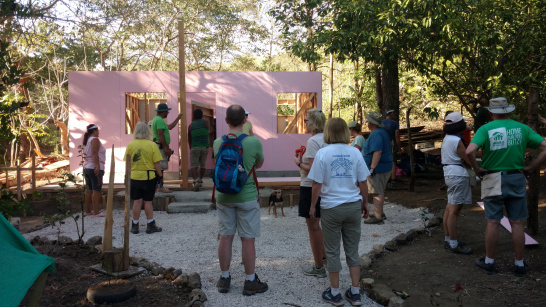 Dear Friends of Richmond Congregational Church,
Carolyn and I are enjoying many wonders and happenings of Vermont while Nathan and Katelyn are away on vacation.  What a beautiful and delightful place to live and serve!
This Sunday I am looking at the story of Jesus healing the centurion's slave in Matthew 8.  Jesus and the centurion cross religious and cultural boundaries and a servant suffering with paralysis receives new life.  First century Palestine is turned upside down in that brief encounter and grace enters the world in an unexpected way.
When we cross religious and cultural boundaries on mission trips, we often see the world turned upside down.  We learn in ways we never thought we would learn.  We go to give but receive much more than we give.  We return as people who are deeply blessed.
Richmond Congregational Church will be returning to Costa Rica February 23 – March 4, 2019, to build houses for the poor in Nosara once again.  Interested in going?  Let myself or Katelyn know.
Grace and Peace,
Neal Sadler (Pastor Katelyn's Father-in-law)