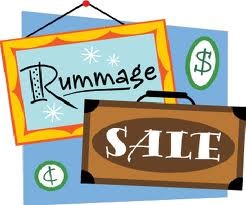 Fall Rummage Sale is Back!
The Outreach Committee is moving forward with a fall sale in 2022, and we will need your help to make the sale a success.
Our mission is to support the community by sharing good quality, secondhand clothing and household items with our neighbors. We partner with organizations like JUMP and Vermont Refugee Resettlement Program to make sure our donations reach those most in need.
Important dates:
Sun Oct 16, after church – Set Up
Mon Oct 17, 5 pm – Rummage Team Gathering (NO Donations Monday)
Tues & Wed Oct 18 & 19, 3-7 pm – Donation Drop off 
Thurs Oct 20, 9am – noon – Donation Drop Off; afternoon – sort and prep for sale
Fri Oct 21, 10 am – 7 pm – Sale Day
Sat Oct 22, 9 am – 1 pm – Sale Day
How you can help:
Interested in volunteering? Contact Jen in the church office – phone: (802) 434-2053, or email: church@rccucc.org
Start gathering your donations* – adult clothes, including winter sweaters and coats and winter boots (but no shoes), children's clothes, shoes and boots, children's toys, Halloween costumes, children's books & games and household items (linens, dishes and kitchenware).
We will Not accept: sports equipment (skis, etc), books for adults, suitcases, adult shoes, electronics (TV's cell phones, tablets, etc), large appliances or furniture.
*Please remember that we want good quality, gently used items that another person/family can use. We have to pay extra for trash removal.