Wanted: Musician
The Richmond Congregational Church UCC, an open and affirming church, is seeking a musician with keyboard and accompanying skills. Instruments available are a two manual digital organ and upright piano which have been well maintained. Applicant should be open to playing sacred and spiritual music and preferably possess an ability to sight read. The individual will work closely with the pastor and music director. The position involves playing for Sunday Services and accompanying the choir. The choir sings once a month from September to June, with two evening rehearsals per month on Thursdays. Attendance at the evening rehearsals is negotiable. For more details about salary and specific work responsibilities click HERE.  Please send resumes to: PO Box 302, Richmond, VT 05477; or email them to church@rccucc.org.  Applicants will be auditioned.
---
Our choir and guests 12/20/15

The Adult choir sings one Sunday a month and on special occasions, such as Christmas Eve. Generally, rehearsals are 2 Thursdays a month, normally the 2 weeks before the choir sings, as well as that Sunday morning before church. This group is non-auditioned, and sound files of the music and individual parts can be provided upon request.

The Serendipity Singers are a group of people who gather one Sunday per month before the worship service to put together a piece of music to sing that day.  The music is announced in advance, and if possible a digital copy and/or recording is made available through email and the weekly e-newsletter.
The schedule of when each choir will sing, along with rehearsal dates and times can be found on the RCC Google Calendar.
People interested in joining the choir can either contact the interim choir director, Esther Nui via email at:  esthernui@gmail.com or simply show up at rehearsal.
---
Summer Special Music
Typically our adult choir does not perform during the summer months. Therefore, we are hoping that you could help fill our church with uplifting music of all kinds,whether singing, playing an instrument, dancing or reciting a poem to music! Children and adults of all ages are welcome!! To sign up for summer music, click HERE. Please include the names of those performing,  the date you would be willing to perform and titles of your song, dance, poem, etc. You may perform solo 1-3 pieces, (2 is fine)  You  may  also have family or friends join you! Please remember that Sunday services, starting in July, are at 9am!  Questions? Please contact Martha Alexander @lastminutemartha@gmail.com.
---
REQUEST FOR PERCUSSIONISTS TO ACCOMPANY MUSIC IN CHURCH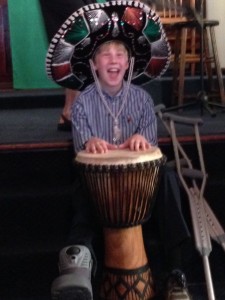 The drum and various percussion instruments enhance music when it is played and part of this is due to the fact that it captures the rhythms of our heart. The church owns various percussion instruments already but we do not have anyone to play them. Are there individuals in this church who would like to pick up one of these instruments from time to time. We are not looking for complicated rhythms; we are looking for those who would like to "go with the beat" and occasionally accompany our singers. It is difficult for singers to hold their music and wield a percussion instrument at the same time so a pair, or extra pairs of hands would be much appreciated.
What is involved basically is being familiar with the melody (we have links that will allow you to listen to the whole anthem in the comfort of your home)  and maybe 15 minutes of your time at one choir rehearsal and to arrive at 9 am for a Sunday dress rehearsal with the choir.  On other occasions when the choir is not singing, it would be great to have some percussion accompanying the hymns we sing at our Sunday service. If you think you would be interested and could help out in this area from time to time, please speak to Esther Nui (esthernui@gmail.com) phone: 802-434-3373) or Jen Lawson at the church (church@rccucc.org phone: 802-434-2053). Thank you very much.