We gather for worship and Sunday School on Sunday mornings at 10:00 AM, and have programs and activities for all ages during church throughout the year.
A few notes about our Sunday Mornings:
We regularly serve Communion on the 1st Sunday of each month. We invite everyone to share in the sacraments of gluten free bread and grape juice.
Our sanctuary is handicap accessible. Enter the church through the Church Street ground level entrance. Use the handicap elevator to reach the sanctuary.

Pastor Katelyn and some children for the children's message

When you enter church, the ushers will hand you a bulletin, which lists the order of worship for that service. It contains the text of the prayers, and lists the numbers for the hymns we will be singing.  You will find most of the hymns in the hymnals in the pew racks.
CLICK HERE TO SEE A SAMPLE SUNDAY BULLETIN
After the Children's Message, children grades Preschool – 8 may choose to attend Sunday school (or the "Meet Me At the River" summer program).
We offer nursery care for small children during worship throughout the school year.
Fellowship hour follows worship, with plentiful refreshments and good conversation.
We also offer Spiritual Support and Fellowship:
Prayer support through an organized prayer chain
Short-term pastoral counseling and spiritual direction
Fellowship events are held throughout the year
Church Luncheons & Suppers throughout the year and the Chicken Pie Supper in October
Holiday Market in December
Rummage Sales – Typically held in the spring and fall
Prayer Shawl Ministry/Knitting Group –  Contact  JoEllen Swaine (jeswaine@comcast.net) for more information or if you know of someone in need of a prayer shawl. When a shawl is completed, the group blesses it before it is sent on its way. We currently have several shawls completed and ready to be given away.
Peace Vigil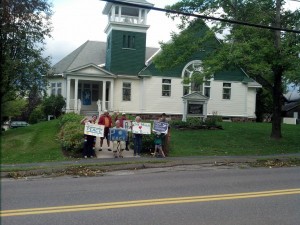 Join us every Thursday evening from 5:30-6:00pm. We have been holding a vigil for peace on the front porch or the front lawn of the church since the beginning of Lent in 2005. It is a very informal meeting. People bring a candle to light and often something in the way of readings and prayers. If you are concerned about the current state of the world and would like a place to gain some peace of mind, maybe you would like to join us. All are welcome!